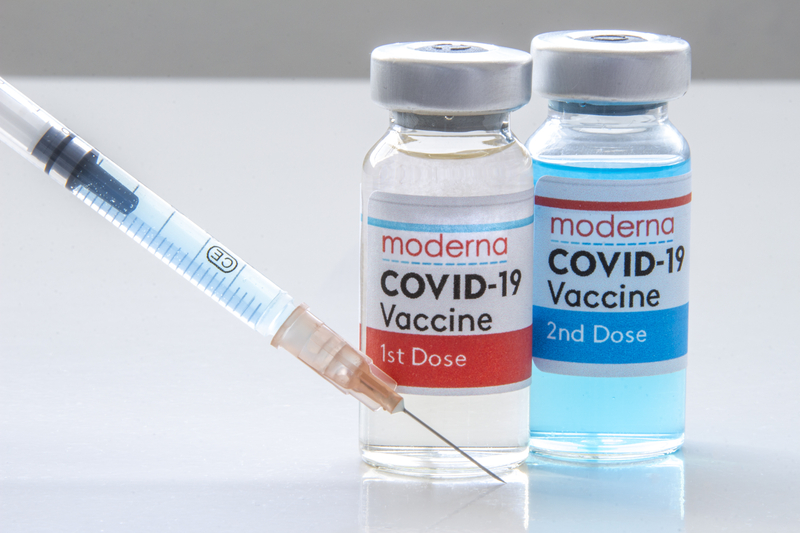 On Tuesday July 13, I recieved my first dose of Moderna's COVID-19 vaccine. I had it done at Tufts Medical Center, which is the hospital that I regularly go to. For those of you who may not have known, I was sick with COVID-19 last April (2020). That was the only reason I needed to decide to get vaccinated as soon as I was able to. I will go back for my second shot on August 10.
So far, I haven't experienced anything beyond my expectations in regards to the known side effects. For those who may be curious, I have experienced a low-grade fever, slight dizziness (though I'm sure that's from Vertigo which I've been dealing with since last month) and some fatigue (though I can mitigate that by increasing my heart rate). I have also experienced some muscle pain in my right shoulder where I had the injection (I'm left handed FYI) which I have been using Tylonol Extra Strength and hot pads to deal with.
All the side effects are supposed to subside after a few days max and so far, I have seen that is indeed the case. The only thing that's persisted so far as musle pain which I'm not very concerned about personally. I am really looking forward to seeing how my body responds after the second shot since the side effects are supposed to be much stronger than after the first. I'll take the shot in the same arm since as I noted earlier, I am left handed and so I won't be severely limited in the immediate days afterward. I'll also try to get some Icy Hot and some more hot pads before then in advance.
I actually just signed up to do delivery with Uber Eats–turns out you don't need a car for that–on July 15 and though I don't plan to start doing deliveries until after I'm fully vaccinated (August 24 is when I'll officially have full protection), it's good to go through the vetting process with Uber from now. I did have a Postmates account but then they went and merged with Uber while I wasn't paying attention. That's ok with me since I've been using Uber Eats for deliveries on a monthly basis since March personally already so I already know what to expect from that end.
If you read any of my recent COVID-19 related posts on my News and Politics blog this week, you probably now understand even more why I was speaking in such high regard about the vaccines all this time. I did my own research on the vaccines before making my decision on which one I was going to get. I decided to go with Moderna mostly because the spacing between shots is a bit longer than Pfizer's and like I mentioned earlier, I've been dealing with Vertigo since last month. That complicates things for me but I'm cool with it personally. I don't plan to go out much between now and when I get my second shot unless it's to get groceries and stuff I can't have delivered or mailed.
I figure once I'm fully vaccinated and some family members see that I'm fine despite my various health conditions, that will be what convinces them to get vaccinated. I hope. Most have taken a "I'll wait and see" position as far as I know. I do know one of my uncles and one of my aunts did get vaccinated earlier this year though I haven't had the chance to talk to them about it. I do know it's not an easy decision when most of your family is against the idea of getting a COVID-19 vaccine because of the misinformation and disinformation from trusted sources they've chosen to listen to. I'm pretty sure that was also the case for most of the unvaccinated who died from COVID-19 in recent months. They decided to gamble with their health and paid the ultimate price.
On that note. A few moments before I got my first shot, I noticed a wall with pictures of about two dozen healthcare workers on a wall behind the check in counter. I didn't ask but my guess is those pictures were the hospital's healthcare workers who've so far died to COVID-19. The healthcare workers who staffed the vaccination site looked legit relieved every time someone walked in to recieve their first or single shot of a vaccine. They were on the front lines from the very beginning of the pandemic. As I sat in the waiting area for 15 minutes after getting my shot, I was almost overcome with emotion when I thought of the millions nationwide who have made the decision to not to get vaccinated.
I think of the story of Noah's Ark personally. If you read later books in the Bible that provide background information on that story, you find out Noah spent 100 years warning people about the flood to come (by the way he lived to be 400 years old). When he and his family boarded the ark and the door was sealed shut, the fates of everyone outside the ark was sealed. Everyone outside the ark was dead but no one knew it yet. The sun rose and fell for 7 more days before the rain that heralded the arrival of a global flood actually began. The people outside the ark likely believed that as long as there wasn't a cloud in the sky, they had no reason to believe they were in any danger. Most of them probably thought "Maybe when it starts raining, I'll believe it." All of them were lost. Think about that. Those who thought they had time and could take their chances were ultimately proven wrong. When the rains began, some may have begged and pleaded with Noah to let them in but by then, it was too late.
It's the same with the vaccine hesitency and vaccine holdouts. Many of those who've taken the "wait and see" or "I'll wait until it's mandated" approaches have been among the ones getting infected and dying. Last month, 99.2% of those hospitalized for COVID-19 nationwide were all unvaccinated. The 0.8% who were fully vaccinated but that was what kept them out of danger. Either way, most of them were infected with the Delta Variant that originated from India. Some of the lucky ones who waited until they were hospitalized to finally get vaccinated themelves and then recovered have gone on to say they wished they got vaccinated sooner. I said this on another blog but at this point, it's obvious President Biden is done trying to plead with people to make a life-saving decision for themselves and the people they care about and get vaccinated.
I am well aware that even when fully vaccinated, I will still need to be careful for as long as COVID-19 is still a public health emergency in general. While most of Boston and Massachusetts are fully vaccinated, the unvaccinated who are are driving the surge in new cases are why healthcare workers are concerned a new strain that can Escape the protection of currently available vaccines could soon emerge. That's still no reason to not get vaccinated. Some protection is always better than none.
On that note. If you have already received your first Moderna or Pfizer shot, make sure to get your second shot for the full protection when it's your turn. Even if you lost your reminder card, you can still go or call wherever you had your first shot and they will be able to tell you when you need to come in for your second shot. When I was getting my first shot, there was talk among the staff of the possible need for a third shot at some point in the future. This would specifically be to boost protection against the Delta Variant as well as the variant first discovered in South Africa since the currently available vaccines only provide modest protection against them right now. That's no cause for concern and should instead be cause for relief in knowing efforts are being made in advance to prepare for that likely scenario.
Once again, some protection is always better than none.
If you have enjoyed this post or other posts I have made on this blog, please consider making a monetary donation via PayPal. Whatever amount you can provide would be greatly appreciated.