…Isn't it something how "That son of a bitch" is now likely going to get signed to a team just to stick it to #45? LOL. The Tweeter in Chief called out Colin Kaepernick during a political rally yesterday though he did not use his name.
Trump made reference to the fact Kaepernick protested violence by Law Enforcement last year during the NFL season by kneeling during the national anthem. Other players who agreed with his reasons for doing so did the same and some do now during this season. Kaepernick announced at the end of the previous NFL Season he would not kneel during the anthem after that season because he felt it would no longer be necessary. The media saw that to mean that this would be the end of the story.
The problem is 8 months later, Kaepernick remains unsigned to an NFL Team. The fact that NFL teams in need a Quarterback during the offseason and even now still ignored him make it clear he was being punished for kneeling during the national anthem last year even though he said he would not do it again. Sounds silly but that's the truth.
Clearly now that will change.
Everyone in the NFL from players the Commissioner to the Team Owners (who wield the real power in the NFL) have come out together to express their anger and disappointment at #45's request that NFL teams "should immediately release anyone who even thinks of protesting during the anthem for any reason". He took shots at the NFL as a whole in general so…yeah. Teams reacted by kneeling during the Anthem in solidarity wit hthe NFL on Sunday. Not for Kaepernick but as a show of unity.
Let's be clear: The hate against Kaep's Anthem protests and the fact that he remains unsigned has little to do with is skills as a player and everything to do with politics. The term in the sports world is Black Balled: Being punished directly or indirectly because the player protests against something unrelated to sports. That fact that he remains unsigned even though he is ready to take the field on a moment's notice has everything to do with his anthem protests last year.  Everyone knew it or didn't want to see it that way.
Now it's taken on a whole new meaning in light of Trump's recent comments. It's galvanized the NFL as a whole. Even those who expressed support for #45 are taking a stand in the aftermath of Trump's latest comments. Contrary to what the closeted racists who think the athletes hate the U.S. Military and Law Enforcement–that's what those who oppose the protests have been saying–may have wanted, we can expect to see more and more players kneel or otherwise silently do something during the anthem.
The thing folks need to keep in mind is Trump made these remarks a few months after NFL Commissioner Roger Goodell stated during the offseason–and I'm paraphrasing–"I don't like the fact that the anthem protests are becoming a distraction." This statement came after several NFL Owners and Head Coaches said on and off the record they either wouldn't want players to protest during the anthem or feel they should stand, saying it's a distraction. This is why Trump said what he said and it's worth mentioning that since Corporate Media is acting like Trump said something that hasn't been said by others first.
So, yeah.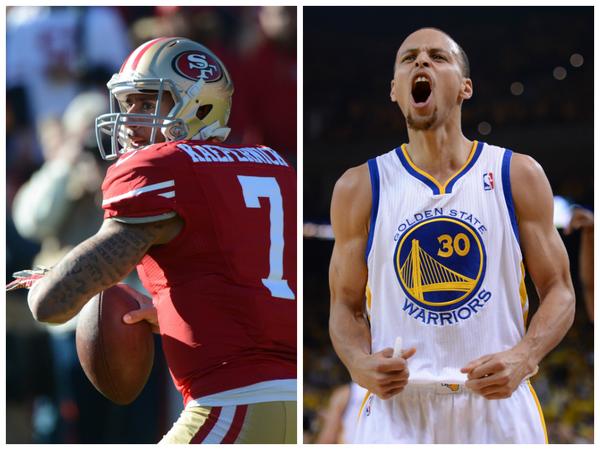 …This brings me to 2-Time NBA Champion Steph Curry.
Unlike the NFL's Gooddell–I'm actually starting to feel bad for him now between the Patriots winning the Super Bowl, getting booed out of Foxboro Stadium and being trolled HARD by Tom Brady–the NBA's Adam Silva is known as The Players' Commissioner. Prior to the beginning of the 2016-17 season, Silver released a series of statements encouraging players to use their status as public figures and athletes however they like. NBA Players wasted no time taking advantage on that note. When the Cavs won the NBA Championship last year, they moved up the annual White House visit so they could meet President Obama before he left office.
A few days ago, Steph Curry said in a statement he doesn't know if he will go with the team because he doesn't like the fact Trump's comments and policies were diving the country along racial lines. Trump responded via Twitter stating Steph Curry was "uninvited". The team's head coach Steve Kerr responded by stating Trump was making it very hard for the team to consider committing to visiting the White House. The team announced hours later they would visit Washington but they would not be going to the White House.
…Look. The media is doing what it does best and is going out of its way to not really talk about WHY these protests are happening. They're just doing head counts of who and how many are and are not kneeling during the anthem. The media couldn't be bothered to explain why exactly they are doing what they're doing. Not that people don't know why. 1st Amendment goes both way but I digress. Now whole teams are taking a knee all over the NFL today. Not for Kaep, mind you but in solidarity for the brand AND to show their displeasure with #45's recent comments.
Take a look at this:
This is today. You have most of the defending Super Bowl Champion New England Patriots kneeling during the anthem on their home field. The fans expressed their displeasure at this by booing loudly. This was likely compounded by the fact one of the players who took a knee during the anthem was the face of the NFL, Tom Brady. Team Owner Robert Kraft said in a statement yesterday he is disappointed by #45's recent comments. Brady made a joint statement with Green Bay Packers Quarterback Aaron Rogers last night stating Kaep should be playing right now. For those who need a reminder, Brady and Kraft are both friends of Donald Trump. This should tell you something.
…So to those who don't like seeing images like this, get over it. LOL.