The Korean War (1950-1953) will always be remembered as the first modern proxy war. Although a ceasefire was signed in 1953, no peace treaty had ever been signed so technically the war never officially ended. The outcome of the war had lasting consequences not just for the region but the balance of power over the last 65 years. North Korea would have 3 leaders–Kim il Sung, Kim Jong Il and Kim Jong Un–all from the same family since the Korean War ended in 1953. South Korea would have 8 presidents in the same span of time.
Think about that.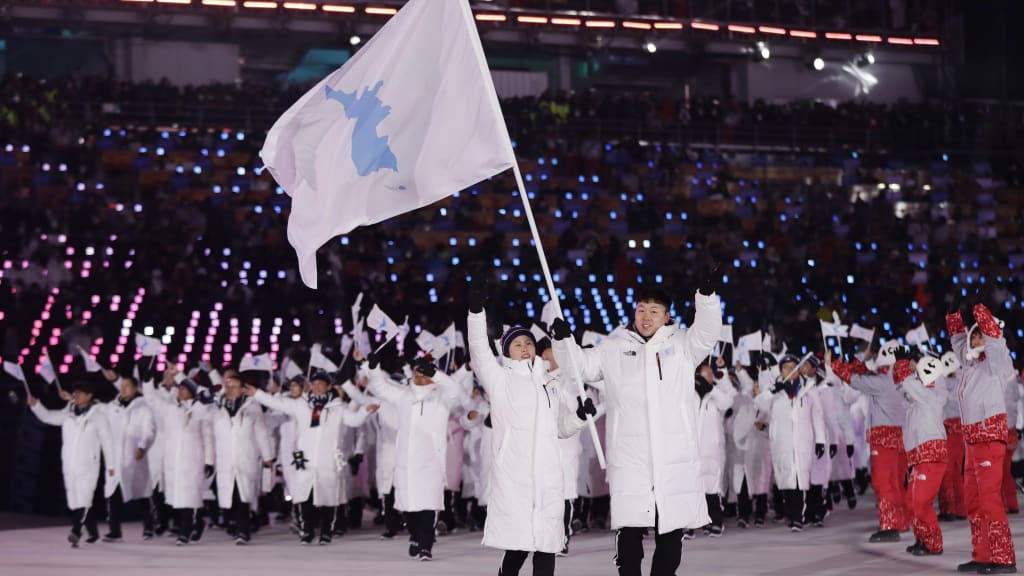 History will record the 2018 Winter Olympics as the watershed moment that led the formal signing of the Peace Treaty on Thursday, officially ending the Korean War. In December, South Korea invited North Korean athletes to compete with them as one unified Korean Team in the 2018 Winter Olympics in Peong Chang, South Korea. After the Olympics ended, the door was opened for dialogue between the leaders of North and South Korea.
That was the opportunity for common ground former NBA Superstar Dennie Rodman, who is a friend of North Korea's Kim Jong Un said would one day come a few years ago. Rodman was vilified in the media for not using his friendship with North Korea's dictator to advocate for the release of westerners being held prisoner in North Korea. He made it clear he was no diplomat and was no negotiator. These were not the purpose of his visits to North Korea, which can only be entered via China and only with written permission from the North Korean government. It's no fair to say he has been vindicated for what he said at the time.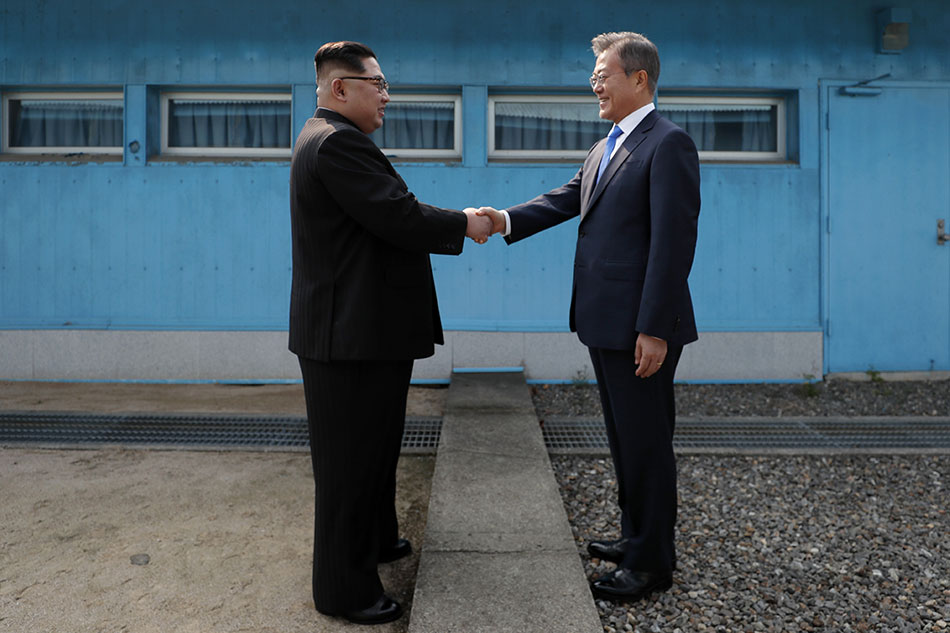 …This is history.
This is North Korea's Kim Jong Un and South Korea's Moon Jae-In. This is the first time the leaders of both countries have met ever and they have only been talking for a few months now. The two leaders met at the DMZ Boarder where Kim Jong Un crossed into South Korea to a throng of excited international journalists and soldiers from both countries. The two formally signed a peace treaty as the world watched in amazement. In the span of about 8 months, what was long considered the most hostile country in the world had taken its first steps to lasting peace in the region.
Contrary to what #45's fans said at an event Saturday afternoon–they chanted "Nobel!" at him–#45 and the U.S. had NOTHING to do with the peace talks between North and South Korea. In fact, he said he plans to walk out of a planned summit that will involve all three leaders (Trump, Moon and Un) "If he feels like it." So, yeah. Let's not give credit to a person or country that not only doesn't deserve it but had a hand in the war that split the Korean Penninsula in two in the first place. Plus it will be a very bad look for the U.S. should #45 walk out as he has threatened to do.
South Korea became Democratic and like Japan after World War II, fell under the military protection of the U.S. Unlike Japan, South Korea was not only allowed to keep their military but they received a blank check from the U.S. to bolster their military along the boarder with North Korea. On that note. Every year since the end of the Korean War, the U.S. would do joint military exercises with South Korea as a "show of force" to North Korea (and by extension China). South Korea requested the planned exercise for this year be postponed as formal talks between the North and South began.
North Korea became Communist with the guidance of the Soviet Union and later China. It would come to be known as the most secretive country on the planet and hasn't changed much since the end of the Korean War. Foreigm Journalists who are allowed into the country from time to time are followed by "Government Minders", government officials who "escort" them from within the country. Not only does one need permission to enter North Korea but one also needs permission to leave the country. It's death to those who are caught trying to illegally cross into South Korea, China or Russia (which all boarder North Korea) as well as their families in many cases. Foreign nationals arrested at the boarder are usually given harsh sentences for the purposes of propaganda.
…This picture of the Korean Peninsula highlights the disparaties between the two countries. The South is modern while the North has little to no infratructure to speak of. Such is to be expected of a country that has closed its boarders to the world and is wary of who or what it lets in or out.
This is to speak nothing of the recent problems that have started to trickle out of North and is likely why Kim Jong Un has taken steps to shut down the country's Nuclear Weapons research:
There has been a sharp increase in North Korean soldiers deserting and crossing into South Korea from North Korea in the last year.
There have been increased instances of North Korean soldiers allowing North Korean nationals to cross into South Korea. North Korean soldiers have orders to shoot on sight anyone trying to cross into South Korea.
Reports of famines and food shortages in North Korea are nothing new but things have reached crisis-level that even North Korean officials are not immune from.
Medical examinations and autopsies performed North Korean defectors and the bodies of those who died shortly after crossing into South Korea have revealed digestive diseases and illnesses are rampant. Cholera, Dysentery and tapeworms to name a few.
Rumors have been rampant for years that North Korea's First Lady Ri Sol-Ju–formerly a government cheerleader–may be sterile and has failed multiple times to produce an heir since their marriage. Her sudden disappearance from the public eye until recently fueled speculation she had join the members of the Kim family who were executed. She joined her husband for the Inter-Korean Summit held in South Korea.
Things have reached the point it where would be fair to now say North Korea is a failed state. Unlike Afghanistan at the end of 2001 however, the transition will obviously be different. Other dictatorships would dig in deeper in this kind of situation but Kim Jong Un has instead begun moving to open the country to the world. These are interesting times not just for the region but the world and most importantly, the Korean Peninsula.
My guess is North Korea will likely go the same as Cuba in some regards and China in others in regards to human rights. Kim Jong Un is clearly preparing the country for life without him running it. Of the 3 possible successors after his father passed away, he was chosen simply because he was still in the country and was of age. He was the youngest of Kim Jong Il's three sons and one of who who was in North Korea when their father passed away about 10 years ago. One brother, who was living in Malaysia had little interest in politics while the other, who was in the country was deemed unfit for rule.
So, the youngest son became the new leader of North Korea by default. It seemed he would continue where his father left off but Kim Jong Un has made many efforts to counter and even conflict with those who supported his father's regime. A few years back, he personally executed his uncle, who was his top advisor along with other senior staff to head off a rumored coup being planned.
Having secured absolute power, the Nuclear Weapons program he developed deep underground appears to have been his way of heading off further dissent within the military. It would seem he never actually intended to make a nuke as his father did even though he did progress much further than the world thought he would. And now he's shutting down said Nuclear Weapons program. More than likely Kim Jong Un is preparing to open North Korea to the world for the first time since the end of the Korean War.
The needs of the North Korean people are many to say the least. We're talking about a whole nation that was isolated from the outside world for 65 years. If and only if the world comes together, the current generation of North Koreans might be able to chart their own desitinies.
If you have enjoyed this post or other posts I have made on this blog, please consider making a montary donation via PayPal. Whatever amount you provide would be greatly appreciated.