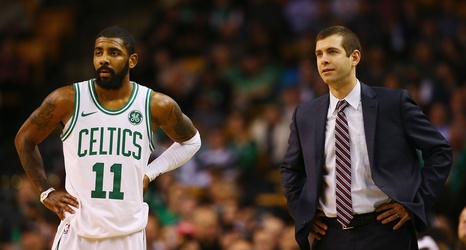 This took place yesterday afternoon at the TD Garden in Boston.
Obviously the details will be ironed out after the 2018-19 season but there you have it it: Kyrie Irving pulled a Paul George and announced in advance he's not leaving anytime soon. This definitive announcement from Irving comes admid speculation he would leave after this season to play for the New York Knicks.
I'm not even sure why folks would believe those rumors given he said early last month he would like to see #11 hang from the rafters one day. So, Uncle Drew himself made it known to all he plans to play in Boston for a while. Possibly for the rest of his career. Paul Pierce and Kevin Garnett will both tell you: Win a title and you're royalty in Boston.
The Eastern Conference runs through Boston now. It's hard not to think that given how much media coverage the NBA PRE-SEASON–4 games total–has been getting. Of course, much of that has to do with Gordon Hayward making his return after missing the previous season + post-season after breaking his ankle in last season's opener in Cleveland.
The Celtics' 2018-19 season begins on October 16.
Before I forget, it's been reported Kyrie Irving has been talking to New Orleans Pelicans All Star Anthony Davis (Forward/Center) about coming to Boston. The Celtics had been eyeing him for a while but ended up getting Gordon Hayward and Al Horford via Free Agency instead along the way as well as the trade that dealt Isaiah Thomas to Cleveland for Kyrie Irving.
If Kyrie and Celtics General Manager Danny Ainge can convince Davis to ship up to Boston, the obvious question is who do you give up for him? It would have to be either a midseason trade or a free agent signing and the Celtics blew up the team just to sign Hayward last year. I can only assume Irving plans to re-sign with Boston for less than his value so the Celtics can get Davis. That's the first problem. The second problem is who do you give up to get him?
Weather it's a trade or a sign and trade, you're looking at giving up at least 3 players. The other 29 NBA teams want Jaylen Brown or Jayson Tatum or both BUT they know the Celtics will not give them up for any reason. For Davis, the Celtics would have to trade at least one of them. The Celtics just gave Marcus Smart a new contract so you know he's off the table more or less.
If I had to draw up a trade for Davis, this is how I'd package it:
Terry Rozier (Guard)
Guerschon Yabusele (Forward)
Semi Ojeleye (Forward)
Future Draft Pick
That makes the most sense to me personally. The Celtics would likely have to add Terry Rozier (Guard) to sweeten the deal. They'd lose a core part of their reserve backcourt but now that we know Kyrie Irving is committing to be with the Celtics longterm, he's the logical piece to move. The Pelicans can rebuild around Rozier or use him in a trade to get someone else. He proved his value last season so…yeah.
So, the Celtics' starting lineup with AD would prettymuch guarantee a trip to the NBA Finals for several years in a tow. Brad Stevens would find a way to make the lineup work with four All Stars just like Doc Rivers did with Pierce, Garnett, Allen and Rondo. Even without Davis, the Celtics are guaranteed to go to the NBA Finals barring the unforseeable. If the Pelicans aren't doing good by the trade deadline–and the West is already overloaded as it is right now–I wouldn't be surprised if the Celtics come knocking!