The Black Panther (Played by Chadwick Bosewin) was first introduced in the Marvel Cinematic Universe (MCU) during the events of Captain America: Civil War. Then crown prince T'Challa accompanied his father the late King T'Chaka on a diplomatic trip, who was killed when the building they were in was bombed. T'Challa sided with Team Iron Man because The Winter Soldier Bucky Barnes was implicated as his father's killer. In the aftermath of the fight between Team Iron Man and Team Captain America, T'Challa arranged for both Steve Rogers and Bucky Barnes to be hidden in Wakanda, the latter man crygenically frozen until the mind control he was under could be safely removed.
Unlike Thor, The Black Panther is not based on a specific mythological being. This gave the director–who also happens to be African American–a TON of freedom to bring Wakanda and its Superhero King to the big screen for the first time. For those who are unfamiliar with the character, the Black Panther is not only a Superhero but is also an actual King of a sovereign nation. T'Challa is not only the Black Panther but is also the King of Wakanda. Above is the main cast of the film and as you can see, all but two of them are Black American or African. I'll pause for a moment there and say this: Only in the U.S. is the term "African American" used to describe people of African descent who were born and raised in the U.S. Africans refer to them as Black Americans for reference. They only apply the term "African American" if an African immigrates to the U.S.
…Getting back to Wakanda. Although it projects itself as a third-world country,  in truth it is the most technologically advanced nation on earth. This is because Wakanda controls 90% of the world's supply of Vibranium, a rare mineral that is also the hardest in the universe. Concerned they could be targeted by other nations, Wakanda elected to hide in plain sight. They present themselves as a third world country while using cloaking technology to hide their vast technology from the world. They rarely allow outsiders entry into their boarders and the rest of the world is none the wiser. At the same time, Wakanda has spies and operatives in every other country on the planet to keep tabs on the rest of the world.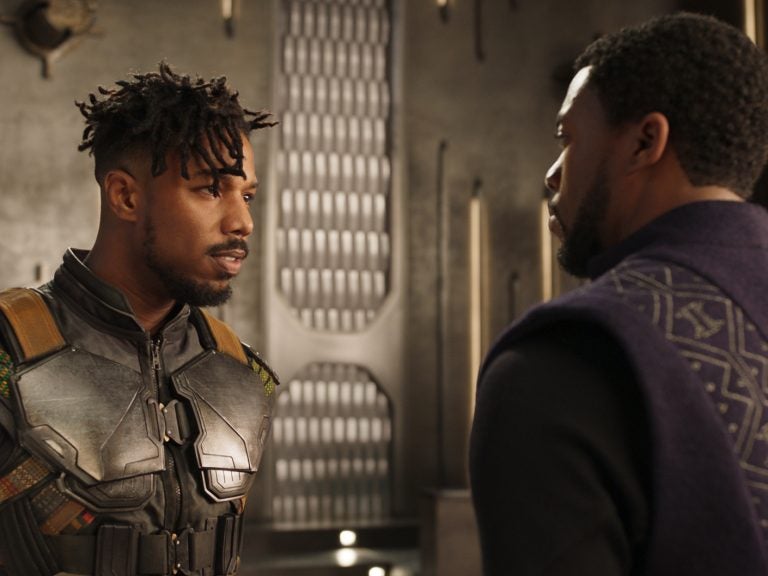 By the time of the events of the movie, the newly crowed King T'Challa considers Wakanda's centuries-old isolationist policy. On the one hand, keeping Vibranium from getting into the hands of those who would misuse it is priority #1. On the other hand, Wakanda's vast resources could be used to help those in need outside their boarders. T'Challa is forced to deal with the matter head-on with the arrival of his cousin Erik Killmonger (played by Michael B. Jordan), whose father was killed by T'Chaka 34 years earlier.
Having grown up in the U.S., Killmonger and his father had a viewpoint and a worldview T'Challa and T'Chaka didn't have. Clearly much was cut for time in the theatrical version but it would be fair to say Killmonger represented the modern Black American: A people whose ancestors were taken from their homelands (Slave Trade), enslaved (American Slavery), Segregated (Jim Crow), Marginalized (Mass Incarceration) and Suppressed (The Present). Too much didn't need to be said for most who paid attention to understand who and what Killmonger portrayed. The restorative justice he sought wasn't for himself but for the over 2 billion people of African descent worldwide who as a people had been exploited and victimized for centuries while Wakanda did nothing. That brings to mind this old saying: Evil prevails when good people do nothing.
Even though Killmonger was T'Challa's main nemesis, you can't help but feel for him on so many levels. Like many African American youth of the 80s and 90s, he lost his father at a young age. He grew up right when Clinton's Mass Incarceration Policy would see Blacks imprisoned at a disproportionately higher rate than whites who committed the same or worse crimes. He would see attempts by black community activists undermined and outplayed by the establishment and others. He would see America's first Black American president deadlocked by a Congress that would rather see him fail than do what they were elected to do. Let's not also forget it's stated he fought in the middle east first as a soldier and then around the world as a mercenary. He's seen more than most so…yeah.
Killmonger's story was the deciding factor in T'Challa's decision to open Wakanda's boarders to the world for the first time in its history. As he said, one can't help but wonder how Killmonger would have turned out if T'Chaka had taken him with him back to Wakanda. The sins of the father had been passed on to the son. Killmonger rejected the Wakandan way of life so thoroughly, he hid his face from T'Challa during their first encounter with a mask. He identifies with the masses worldwide who live in an oppressed society. A world T'Challa and Wakanda have never known.
Moving on, T'Challa being surrounded by and supported by several strong, independent black women in positions of power sends a powerful message not just for black youth but women and girls in general. We live in a time where "Old Values" and "Traditions" feel under threat by the modern Women's Revolution and the #MeToo Movement. Ideologies and beliefs that see women and girls as good for nothing but sex, having kids and minding the home and that's how things should always be. They view displays of equality between the sexes as nothing more than "Make Believe" and calls for Women's Rights worldwide "A good joke".
…My point is the world is changing. It is all the more important that how things should be is represented in movies and tv. Regardless of one's race or gender, everyone should decide on their own to be who and what they want to be. Not who or what others think or want them to be. Unlike most who have seen this movie regardless of weather they like it or not, that's my thought on the matter. You will have those who will just see The Black Panther as nothing more than "The Black Superhero". No one calls Captain America the White Superhero, no one calls Wonder Woman the female superhero and no one calls Daredevil the Blind Superhero. Captain America is a Superhero who happens to be white. Wonder Woman is a Superhero who happens to be a woman. Daredevil is a Superhero who happens to be blind.
Never mind the overt and subtle politics people see in the Black Panther. The fact of the matter is the premise is no less "offensive" than Superman, Batman, The Hulk/Bruce Banner or Thor. Yet is bothers some people none the less. The question I would ask those persons is why?
Anyone who knows their history probably noticed this striking similarity and yes, it was intentional. On the left is the founder of The Black Panther Part, Huey P. Newton. He sits with a rifle in his right hand and a spear in his left. The tagline "The Revolution Will Not Be Televised" is in referenced to this song:
Gill Scott-Heron was an musician and poet who wrote and performed a variety of songs that scared that crap out of The Establishment in the 60s and 70s. Why? Because he spoke truth and encouraged people to think for themselves and be self-empowered. The song was used by The Black Panther Party to promote their movement–not that he minded–and that's how it became both famous and imfamous.
He explains why he did this song in an interview 30 years later:
…He died in 2011 in case you're wondering.
Getting back to this movie, the very idea of Black Power terrifies the world. I'll just put it like that. I don't mean military power but REAL power. The power to realize your full potential. Equality. Respect. Prosperity. There is a reason The Slave Trade is still referred to as America's Original Sin and it's because Reparations haven't happened. Despite the UN again saying the U.S. owes Black Americans Reparations for the Slave Trade, Jim Crow and everything that's happened since. Still, nothing.  As the saying goes, the longest rope has an end.
Those who dare to watch this movie may learn something from it. There are no hidden messages calling for Black Americans to arm themselves and kill white people. That's just some paraoid foolishness White Supremacists are telling people. There are a ton of both suble and obvious references to what's going on in the world today in the movie. This much is true.
…It's also true that a Black Panther 2 WILL happen and has been confirmed.