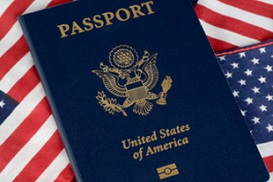 …Fair warning: This does have to do with politics.
A recent straw poll done revealed less than half of Americans have a Passport. I myself am one of those who don't have an active Passport but I plan to change that as soon as I can. For the first time, the United Nations issued a travel advisory earlier this year for people to avoid certain parts of the U.S. due to politics mostly.
I won't mince words: The political climate in Boston is volatile. It is simply because to many, "things aren't that bad" or " things don't have to be" as far as they care. By "doesn't have to be" they mean "Just shut up, stop whining, keep your head down and follow the rules. You have no idea how lucky you are to live in The greatest country in the world".
I say this because ever since last year's election, the biggots and racists who hid in the shadows have come out in force. They're not just saying "Go back to Africa/Mexico!" to Blacks and Hispanics. They're now saying "If you don't like it here, go somewhere else!" to other Whites. Madness, I know.
Which brings me to this video I recorded yesterday:
…It really is something else.
The funny thing about the whole "Go back to Africa!" thing: They keep saying it to blacks WHO WERE BORN IN THE U.S. LOL. So, yeah. Of course, the comment is racially intended. There are many Black Americans who don't even know most of Africa isn't as "backwater" as they might think it is and definitely not with all the American money being poured into it over the last 30 years alone.
Anywho my point is it might not be such a bad idea to at least open yourself to the idea of living abroad. You can live outside the U.S. and retain your citizenship. There are lots of countries in which you can have a fairly smooth transition. Obviously some planning would still be necessary. This is something I have been thinking about since 2009 personally believe it or not.
If I were to pick a country to live in either short-term or long-term–or even permanently–here's my Top 5:
The Philippines: A former U.S. Territory, English is one of the official languages. The country has alot of untapped potential for anyone willing to invest in it. This is my top choice simply because I would be able to make a new life for myself here and not think about what I leave behind in the U.S. I would also have a fairly easy time getting settled and national politics can be safely ignored the further away from the capital you are.
Kenya: Based on what I am hearing, there is ALOT of promise and of reasons to invest in this country's future. It has fast become a powerhouse in the region and another light on The Dark Continent. I considered South Africa but the comparisons to the U.S. are a bit too strong.
Canada: Goes without saying I technically don't need a passport to go here. Toronto is 500 miles from Boston. There is already a mass migration of Americans crossing into Canada, after all. The political climate is certainly more stable than the U.S.
Japan: Ah, the Anime Capital of the World. Probably not live permanently but I definitely would love to spend some time here. If not mainland Japan then one of islands far to the south.
American Samoa: It has the same status as Puerto Rico but is in the Pacific Ocean. There wouldn't be a language barrier either.
…Those are it. All of them are democratic countries or territories as well.
The way I see it, there are too many Americans who are ignorant of what is going on outside the U.S. They simply go by what they see on the evening news and assume that's it. My point is there's no harm in traveling. I certainly plan to once I am able to afford it. LOL.
On a more serious note, if you wait until things are dangerous for  you to try to travel then you waited too long.
If you have enjoyed this post or other posts I have made on this blog, please consider making a monetary donation via PayPal. Whatever amount you provide would be greatly appreciated.

Save
Save