This is a picture of just one of the MANY armed and trained Anti-Government Militias in the U.S.
In one of the uncommon but not rare times Corporate Media did what you expect them to do–tell the truth–it was revealed there has been a concerted effort by the current and previous two administrations to deflect the full might of the Department of Homeland Security amd the FBI away from gathering data on them. The CIA certainly has tried to infiltrate some of the more organized ones but it hasn't been easy since they're tight-knit groups and wary of folks looking to join "out of the blue" without credentials.
It took longer than I thought to find this map, which is two years old: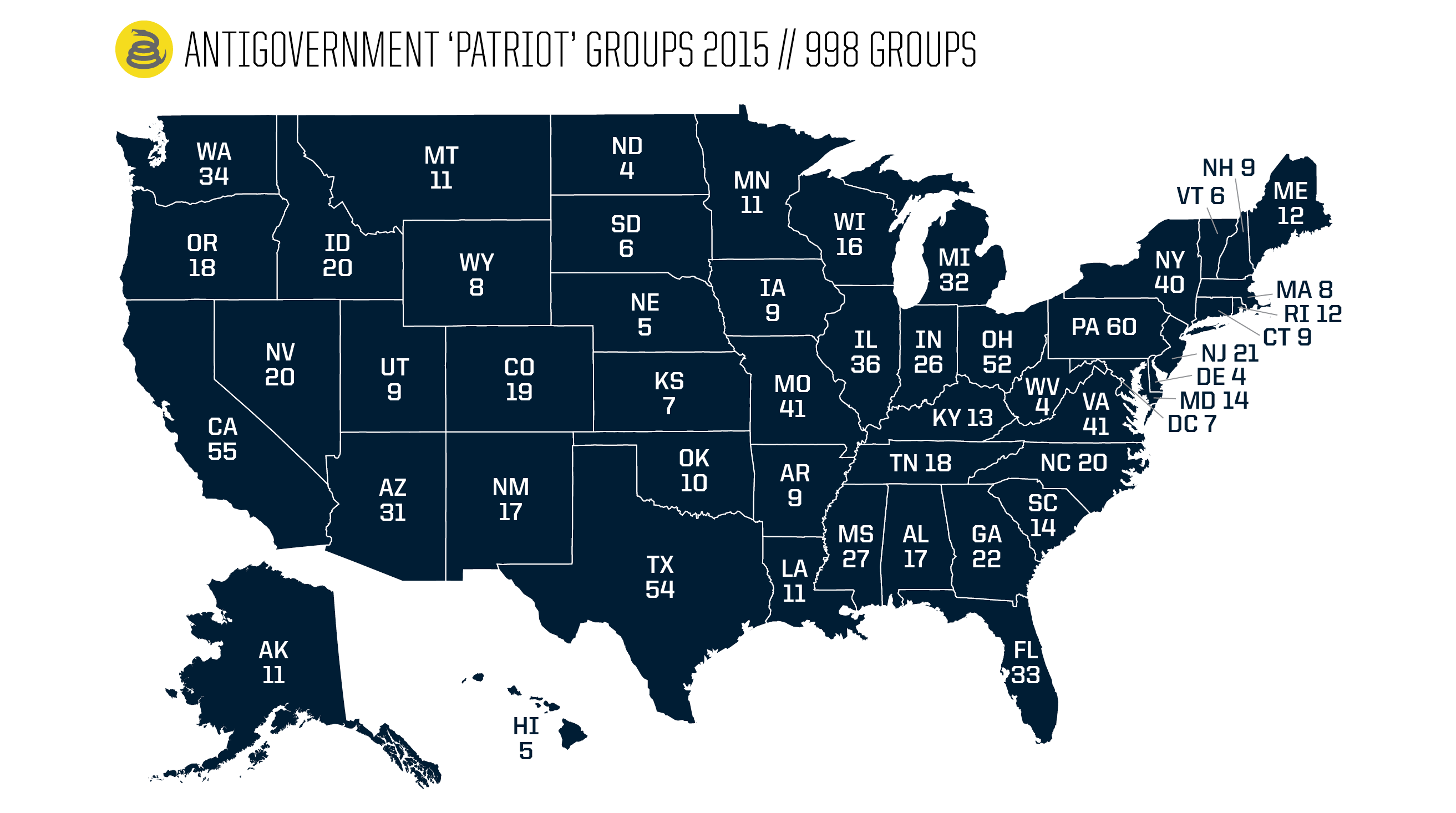 …Every single state.
I live in Massachusetts, which not only doesn't have Open Carry Laws but also has some of the strictest regulations for buying and owning firearms in the entire country. Now, remember what I said in the previous paragraph: We know very little about these self-titled "Patriot" groups, which gained increased visability and attention during Obama's two terms. These Anti-Government Militia are a much larger threat than any external threat they, the media or the government might want you to believe.
Why?
Think about it: We know about ISIS. We know about Al Qaeda. We know about other countries' militaries. We know almost nothing about these Domestic Militant Groups, many of whom have ties to or embrace the White Supremacist ideology. You see where I'm going with this?
No?
Let me spell it out then:
Civil War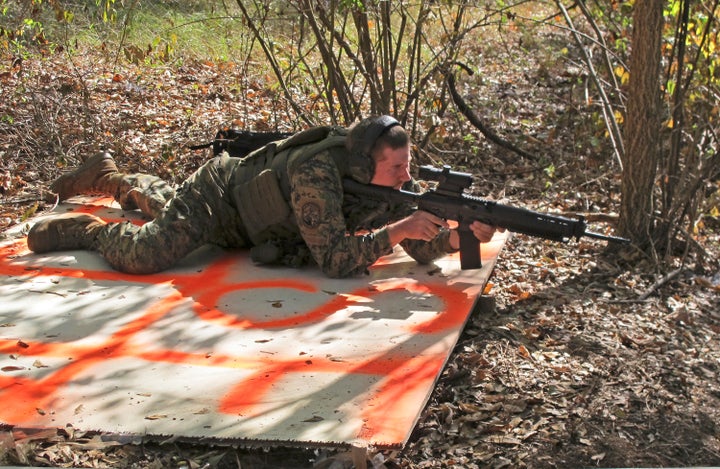 Could we really see another Civil War fought on U.S. soil? Yes, absolutely.
I'm now convinced beyond reasonable doubt that it will happen and happen very soon. The Domestic Militants have had literally decades to prepare for a sustained conflict on U.S. soil. Many of them have been pretty open about the fact that their sole purpose is to fight the government "when the time comes".
According to chatter online, many White Supremacist groups are openly turning to these militias to provide security as well as training in increased numbers since the 2016 election. While the FBI (finally) releasing a report revealing White Surpremacists have infiltrated Law Enforcement and the U.S. Military wasn't a surprise, that doesn't make it any less concerning. That's where many of them are getting their training from. When you take that into consideration, the spike in gun sales after a Mass Shooting makes alot of sense. They also lobbied to keep the Assault Weapons ban from being renewed, citing the Second Amendment. The obvious question no one is asking: Why?
Two words come to my mind: Revolution and Rebellion. As it happens, they now have a figurehead with the charisma, power and wealth to unite many of these Militant Groups into his own private arny.
I'm talking about this guy:
I mentioned in two of my previous blog posts the GOP is slowly setting the stage for Trump to be removed as POTUS. It is no secret that Trump is a big believer in vengeance. Several Militant White Supremacist groups have put out statements online since last weekend promising "Righteous fury against anyone who threatens the legitimacy of President Donald Trump".
You don't need to read between the lines to know this is a very clear threat of violence against any effort to remove Trump as president even if he resigns, which some GOP members are now calling for him to do. According to some straw polls, 6 out of 10 White Americans who support President Trump say they will support him no matter what.
Why?
Because this is the America Donald Trump promised them during the campaign. His statements this week were nothing more than reaffirment to the White Supremacists and to a lesser extent most Anti-Government Militia that he is their guy. Mind you, Trump himself is NOT a racist but the White Supremacists see him as "one of them" because he is now the POTUS. It would not be wrong to assume they will move on his behalf without direct orders from him to do so. Do not be surprised if you start hearing about things happening to elected officials in the months or even years to come.
Remember the above map.
We are talking about Anti-Government militia ready to move and seize government buildings or government officials at the drop of a hat in every single state. Militia we know little about, let alone how many are in each group. Yet, the GOP-controlled government and the media wants–no, NEEDS–the American People to believe ISIS and Al Qaeda are the bigger threat.
…The irony.
Will Trump lead some of these ant-government militia against the U.S. Government? No, but they will certainly use his Impeachment (or Resignation) as a pretense and "justification" to move against the federal goverrnment. I would be concerned if you live near a Military Base: Several bases have regularly reported to the Pentagon scouts regularly check their defenses for weaknesses they can exploit later. Why would ragtag "Patriots" target Military Bases? To procure tanks and heavy arms the ex-military in their ranks would be able to use that's why. Again, the public has NO CLUE this has been going on for DECADES.
Yet they want you to believe the real threat's from beyond our boarders? Give me a break. They just don't want the public to see it coming is all. This is why I am making the case a Civil War is unavoidable and inevitable at this point.
Now, I am WELL AWARE how this all sounds. It's fine with me if you want to dismiss this as basless conjecture without a shred of proof or evidence to back it up. I have no problem admitting that this my conspiracy theory until proven otherwise. For this reason, I'm not asking you to take my word for it. Just pay attention to what's going on. Avert not your eyes from reality.
Save
Save
Save
Save
Save